Download Catalogue...
Download Excel Data
Download PDF Catalogue
You will get a Excel file with detail about catalogue.
You will get PDF file with detail about catalogue.
About the Author
PRINT
Rajesh Tandon
---
Rajesh Tandon is an internationally acclaimed leader and practitioner of participatory research and development. He founded Participatory Research in Asia (PRIA), a voluntary organisation providing support to grassroots initiatives in South Asia and has been its Chief Functionary since 1982. He has recently been appointed Co-Chair of the prestigious UNESCO Chair on Community Based Research and Social Responsibility in Higher Education.
A renowned authority on participatory research, he has championed the cause of building organisations and capacities of the marginalised through their knowledge, learning and empowerment. He has contributed to the emergence of several local, national and international groups and initiatives to promote authentic and participatory development of societies. He has authored more than 100 articles, a dozen books and numerous training manuals on democratic governance, civic engagement, civil society, governance and management of NGOs, participatory research and people-centred development. For his distinguished work on gender issues, the Government of India honoured him with the prestigious Award in Social Justice in March 2007. The University of Victoria, Canada, awarded Dr Tandon the degree of Doctor of Laws (Honoris Causa) in June 2008. He is the first Indian to be inducted to the International Adult and Continuing Education (IACE) Hall of Fame (class of 2010).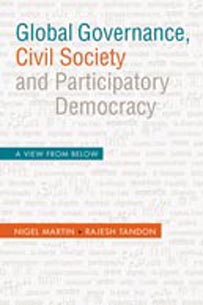 A View from Below
Hard-cover • 2014 • 188 • 6¼ x 9¼ (inch) ISBN 9789332701496 • INR 795