Download Catalogue...
Download Excel Data
Download PDF Catalogue
You will get a Excel file with detail about catalogue.
You will get PDF file with detail about catalogue.
About the Author
PRINT
Nigel Martin
---
Nigel Martin is the founding President and CEO of FIM. He has over 35 years of experience in the NGO community in Canada and elsewhere and has served as Executive Director of several organisations, including the Canadian Council for International Cooperation in Ottawa (Canada), Euro Action Accord in London (UK), as well as the Organization Canadienne pour la Solidarité et le Développement and Oxfam-Québec in Montreal (Canada). Nigel began his career with the Canadian International Development Agency in 1971, where he was one of the earliest staff members of the then-fledgling NGO programme. He was a member of the Steering Committee of the United Nations Development Programme Platform HD2010 and has been an official advisor on development issues to both the Government of Canada and the Government of Quebec. He has served on several boards of directors including the Carold Foundation Board in Toronto. He is also an initiator and co-founder of the World Bank NGO committee and Mothers' Call International. Nigel has previously contributed to Practice-Research Engagement and Civil Society (The Hauser Center, Harvard University, 2001); Critical Mass: The Emergence of Global Civil Society (Wilfred Laurier University Press, 2008) and has written the Foreword to Democratizing Global Governance: Ten Years of Case Studies and Reflections by Civil Society Activists (Mosaic Books, 2009).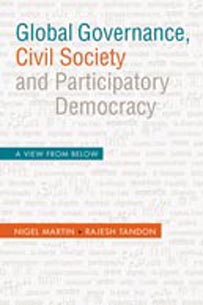 A View from Below
Hard-cover • 2014 • 188 • 6¼ x 9¼ (inch) ISBN 9789332701496 • INR 795