Download Catalogue...
Download Excel Data
Download PDF Catalogue
You will get a Excel file with detail about catalogue.
You will get PDF file with detail about catalogue.
About the Author
PRINT
Nivedita Das Kundu
---
Nivedita Das Kundu (Ph.D.), presently working as an Assistant Director (Research) with the Indian Council for Social Science Research. Earlier, she worked as a Research Fellow at the Indian Council for World Affairs and as an Associate Fellow with the Institute for Defence Studies and Analyses. She has taught in the University of Helsinki and in the University of Hannover. She has received her doctoral degrees from School of International Studies, Jawaharlal Nehru University. She was a Post-Doctoral Fellow at Woodrow Wilson International Center for Scholars, Washington DC. She is an expert on Russia and Former Soviet States with a proficiency in the Russian Language. She has contributed widely on her research area nationally and internationally. She has authored a book on "Russia and it's Near Abroad: Strategic Dynamics and Implications", and edited books on "Russia-India-China: Evolution of Geopolitical Strategic Trends", and "India-Russia Strategic Partnership: Challenges and Prospects". She is a recipient of many of prestigious national as well as international fellowships like ICSSR (India), US state government fellowship, DAAD (Germany), CIMO (EU), RAS (Russia).
The Silk Route Connection
Hard-cover • 2012 • 102 • 6¼ x 9¼ (inch) ISBN 9788171889280 • INR 595
Challenges And Prospects
Hard-cover • 2010 • 168 • 6¼ x 9¼ (inch) ISBN 9788171888276 • INR 595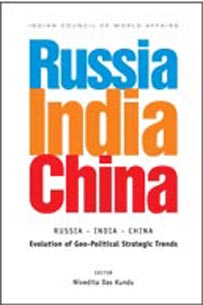 Evolution Of Geo-Political Strategic Trends
Hard-cover • 2010 • 118 • 6¼ x 9¼ (inch) ISBN 9788171887828 • INR 595