Download Catalogue...
Download Excel Data
Download PDF Catalogue
You will get a Excel file with detail about catalogue.
You will get PDF file with detail about catalogue.
About the Author
PRINT
Jo Johnson
---
Jo Johnson is the Member of Parliament for Orpington, UK. He is an elected member of the Public Accounts Committee and Deputy-Chairman of the Indo-UK All Party Parliamentary Group. Prior to his election in May 2010, he worked for 12 years at the Financial Times in a number of roles, including Associate Editor, Editor of the Lex Column, South Asia Bureau Chief and Paris Correspondent. He remains a Contributing Editor at the FT. A graduate of Balliol College, Oxford, he has additional degrees from the Institut d'Etudes Européennes in Brussels and from INSEAD.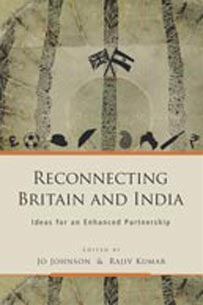 Ideas for Enhanced Partnerships
Hard-cover • 2011 • 284 • 6¼ x 9¼ (inch) ISBN 9788171888986 • INR 895