Download Catalogue...
Download Excel Data
Download PDF Catalogue
You will get a Excel file with detail about catalogue.
You will get PDF file with detail about catalogue.
About the Author
PRINT
Abhishek Singh
---
Abhishek Singh is Assistant Professor, Department of Public Health and Mortality Studies, IIPS, Mumbai. He has over 50 publications in reputed peer-reviewed national and international journals. His research interests include mortality analysis, modeling of HIV/AIDS, maternal and child health, social epidemiology, and large-scale survey research. He was a visiting scholar at the Johns Hopkins Bloomberg School of Public Health (April-June 2008). He was awarded Leverhulme Fellowship to visit University of Portsmouth, UK during June 2011-May 2012. Dr Singh is involved in a number of research studies at IIPS.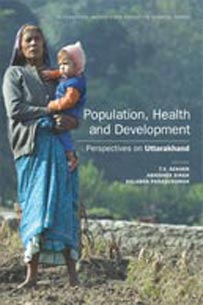 Perspectives on Uttarakhand
Hard-cover • 2013 • 558 • 6¼ x 9¼ (inch) ISBN 9788171889464 • US$89.95